In less than a week, the Danang International Fireworks Festival 2023 (DIFF 2023) will officially take place with dazzling performances of colors and lights on the romantic Han River. Wyndham Danang Golden Bay shares with you some of the best places to watch the fireworks
Main grandstand
• Fireworks location: Han River Port area.
• Main grandstand and stage location: Sidewalk of Tran Hung Dao Street, opposite the fireworks area and Olalani building, on the platform of the stage used at DIFF.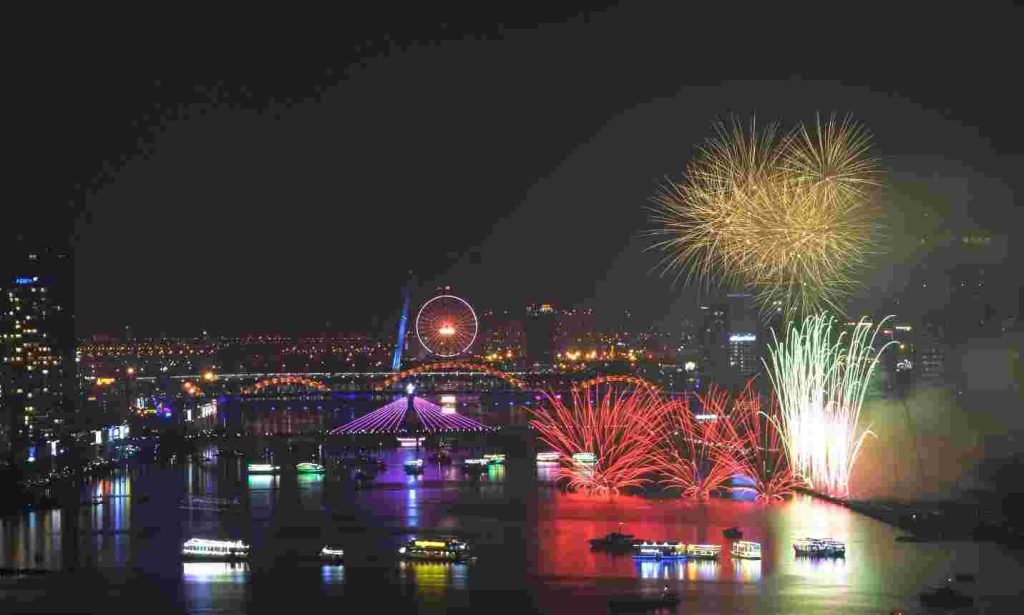 If you already have a ticket in your hand, then you won't have to worry about the location because the grandstand is in the most convenient place to watch the fireworks. With a capacity of over 5,000 seats, you don't have to squeeze in the crowd but still enjoy the fireworks and music performances comfortably.
F29 Golden Beef &  Sky Bar Restaurant
If you and your family want to watch the fireworks in a special way, then F29 Golden Beef & Sky Bar Restaurant is a destination that you can't miss. Located on the 29th floor of Wyndham Danang Golden Bay Hotel, F29 Golden Beef & Sky Bar Restaurant has a unique view facing directly to the Han River and Da Nang bridges, opening up a panoramic view of the International Fireworks Festival.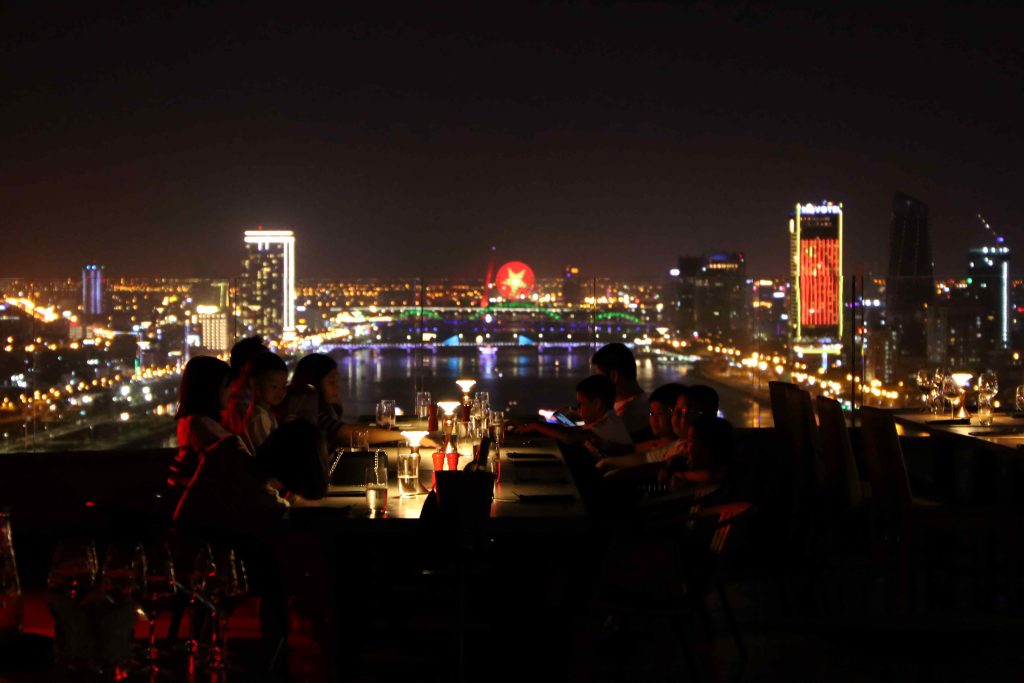 That's why F29 Golden Beef & Sky Bar Restaurant will be an ideal place for you to fully admire the fireworks displays on the sky and water surface of the Han River while enjoying the exquisite dishes prepared by chefs from France in a luxurious and classy space, next to a glass of wine from the highest fine dining restaurant in Da Nang.
F29 Golden Beef & Sky Bar Restaurant offers a special  buffet menu for this year's International Fireworks Festival.
For more information, please contact 0236 . 3223 777 to book a table.
Wyndham Danang Golden Bay Hotel
Wyndham Danang Golden Bay Hotel is located next to the famous Thuan Phuoc Bridge, a leading 5-star hotel in Da Nang. This place is voted by Danang Fantastic City of Da Nang Tourism Promotion Center as one of the best places to watch fireworks in Da Nang. On every occasion of the International Fireworks Festival, this place becomes a destination to welcome many visitors, to rest and admire the fireworks on every night of the competition.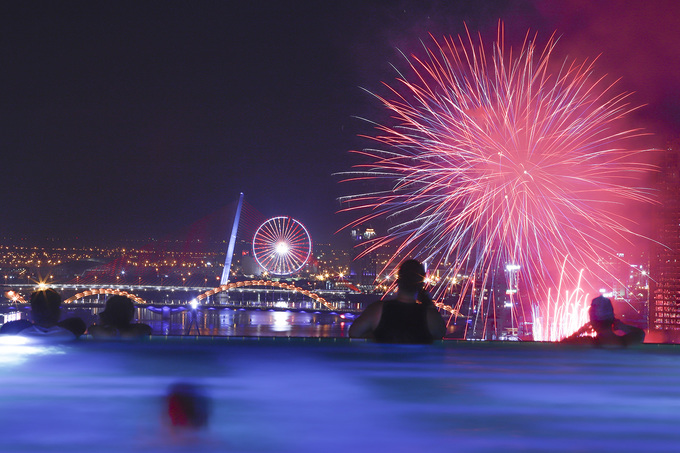 Infinity pool with gold plating on floor 29 with panoramic view of Han River, you will have the opportunity to fully admire the brilliant fireworks performances and the perfect harmony of sound and light. What could be better than swimming and watching fireworks in the lively atmosphere of Finger Food Party.
If you want to enjoy the fireworks performances in your own private space, Deluxe or Corner Suite rooms with private balconies create a perfect open space for a spectacular light party on the banks of Han River.
For more details, you can contact 0236 .3878. 777 for more consultation.
The most detailed information about Da Nang International Fireworks Festival 2023
With the theme The World has no distance, DIFF 2023 will take place on 5 nights with specific schedule as follows:
June 2: The competition between host team Vietnam and Finland with theme Peace for humanity
June 10: The competition between Australia and Italy teams with theme: Qualifier
June 17: The competition between Canada and France teams with theme Unlimitted Love
June 24: The competition between UK and Poland teams with theme Dance of Nature
• The final will take place on July 8 to select two best teams and award Champion and Runner-up DIFF 2023.
Wyndham Danang Golden Bay Hotel
01 Le Van Duyet Street, Son Tra, Danang City
Email: info@wyndhamdananggoldenbay.com
Tel: 0236.3878.999